06.05.2018
13:31
DB Rail Academy enters partnership with Asian Rail Academy
Image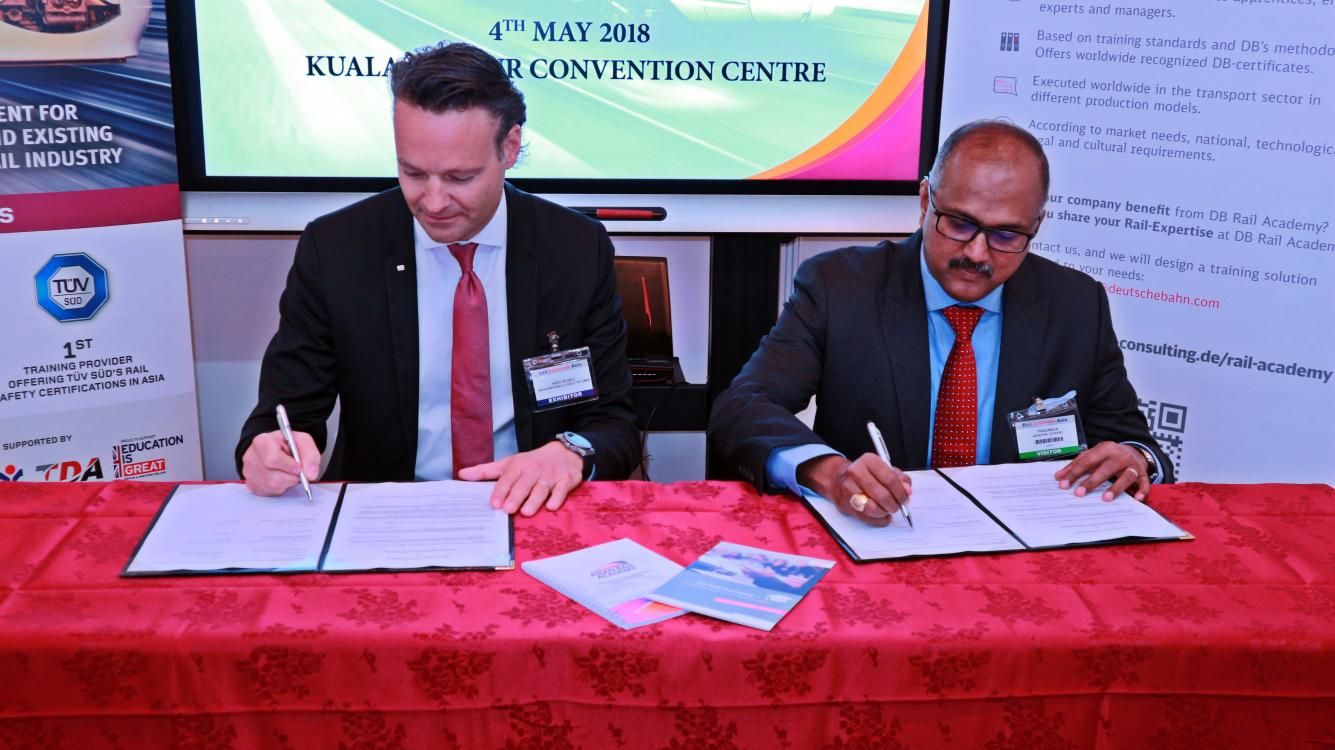 Photo Credit: DB Rail Academy / Heiko Scholz
Image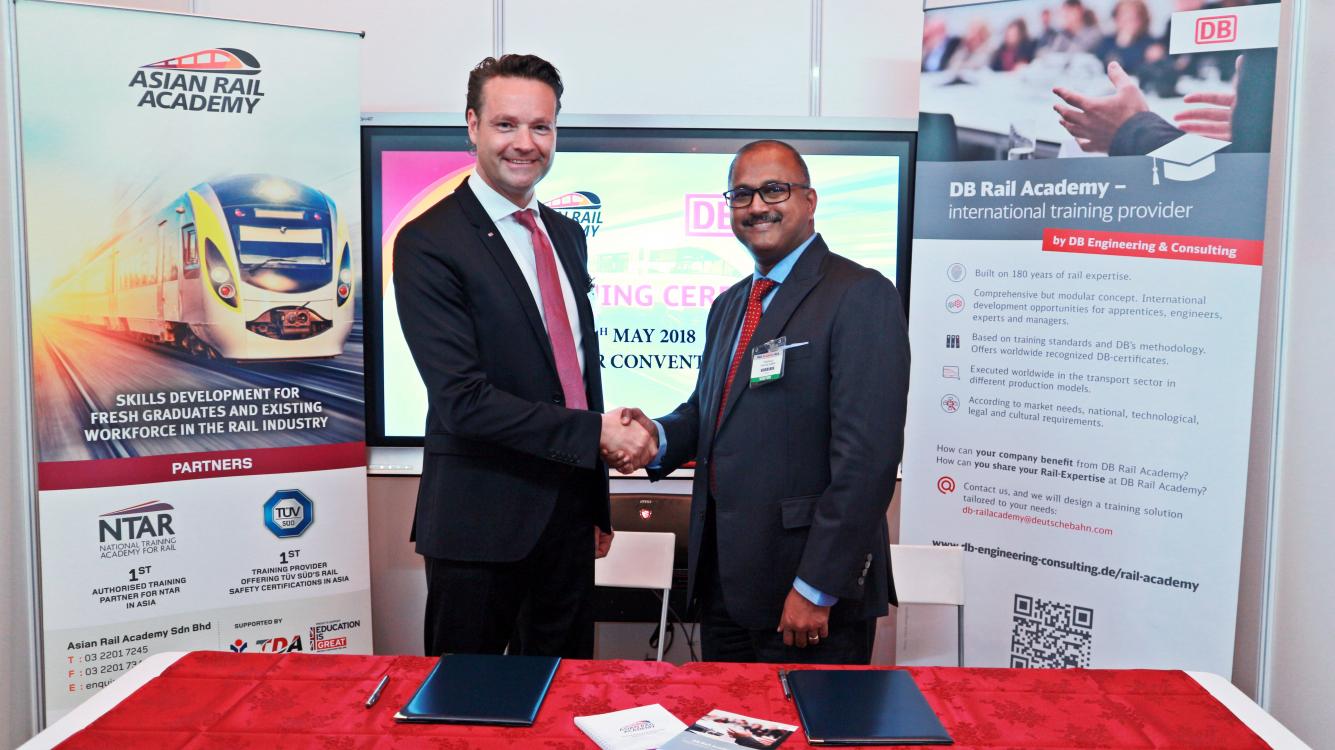 Photo Credit: DB Rail Academy / Heiko Scholz
Image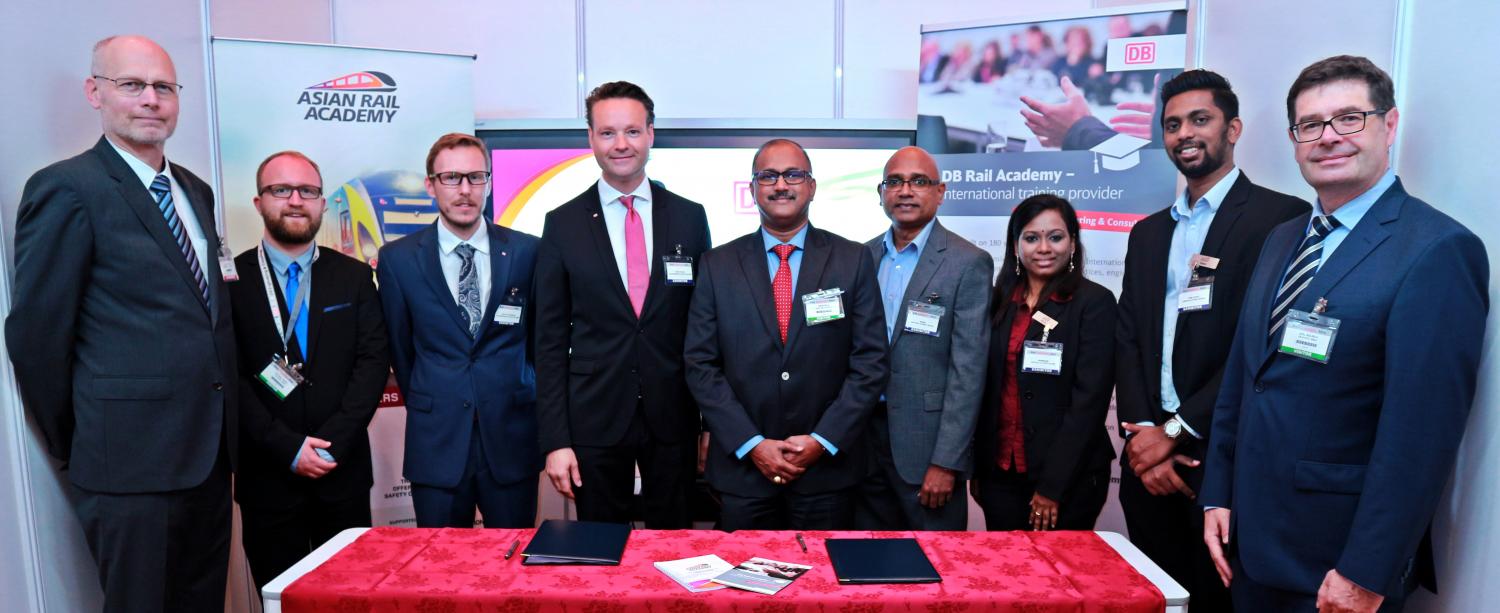 Photo Credit: DB Rail Academy / Heiko Scholz
News
Asian Rail Academy signs MoU with DB Rail Academy, Europe's no. 1 training organization in rail and mobility to deliver training programs for the rail industry in Malaysia & Asian region
15th May, 2018, Kuala Lumpur – Asian Rail Academy (ARA) has signed a Memorandum of Understanding (MOU) with DB Rail Academy from Germany, a business arm of Deutsche Bahn (DB) Group, one of the world's leading mobility and logistics companies. Positioned as the gateway to international rail certification, ARA is geared to bridge the skill gaps in the existing and fresh workforce by collaborating with key industry players to provide globally recognized and industry-relevant certification programs in Malaysia.
In hindsight of expedited growth in the local rail industry, the Malaysian Government is expected to fork out RM160 billion by 2030 to develop rail infrastructure and new lines.
"We selected Asian Rail Academy as our partner to represent us in the Malaysian market, because of its strategic local network and its extensive knowledge about rail industry needs," said Mr Heiko Scholz, Director DB Rail Academy.
Having the largest turnover of all European rail companies at a staggering €40.6 billion in 2016, DB Group is Europe's leading regional rail passenger transport, rail freight transport, rail infrastructure, land transport and operating stations company. DB Group operates more than 24,000 trains and transports approximately 7.3 million people daily on both its train and buses in Germany. Its training organization, DB Rail Academy is Europe's largest provider of comprehensive training and education for the rail and transport sector with more than 250,000 participants yearly.
Under the terms of the MOU signed between ARA and DB Rail Academy, a consensus in collaborative initiatives to undertake roles complementing one another in establishing rail training programs in Malaysia was enacted.
"Looking at the increasing demand for human capital following rapid growth of the rail industry in Malaysia and the region, it is important to see training demands in the rail industry being met with increased range of professional training courses provided by world-class organisations such as DB Rail Academy in Germany. Malaysia is set to be the epicentre for training in the rail industry for the region, with the Asian Rail Academy and our global partners forging the future of rail training in Asia," said Mr Thiagaraja, CEO of the Asian Rail Academy.
ARA will offer training facilities, tools and materials for training execution, including administrative and organization support in the overall management of DB programs. ARA will also assist in the organizing of training programs and facilitate communications with the Human Resource Development Fund of Malaysia (HRDF).
ARA will work with DB Rail Academy to obtain access to all of DB's resources and capabilities as well as its worldwide network to extend professional certification to participants according to DB's standards.
In 2017, Asian Rail Academy partnered with National Training Academy for Rail (NTAR) from the UK and TÜV SÜD from Germany to provide industry-recognized global certification programs in traction, rolling stock and railway safety. This year, in partnership with DB Rail Academy, ARA extended its offerings in all other rail subsectors in Malaysia, including rail leadership development programs aimed at top rail leaders in the country.
Having had 180 years of railway experience in 130 countries with more than 310,000 employees from 66 nations, DB Rail Academy will develop training programs in accordance with Malaysian rail industry needs and demand. Its training, geared to practical application in the rail sector, is reliable and thorough. DB Rail Academy offers modular programs that define and develop training standards, which are executed worldwide in the rail and transport sector with a variety of implementation models.
With a range of suitable international technical and leadership training programs aimed at the rail industry in Malaysia, Asian Rail Academy fulfils a key pillar in the 11th Malaysia Plan. Thus, enhancing human capital development for the rail industry and spearheading the nation forward for greater advancement into being a fully developed nation.
Contact
Person
Oliver Stoffel, Business Development Manager
Email
oliver.stoffel@deutschebahn.com